For those of you who are previous clients make sure you book in for your Annual Update for 2016 – the Year of the Monkey. Remember, for best results you need to have this information PRIOR to the changeover date of 4 February 2016. This service is highly recommended to ensure a healthy, wealthy and positive relationship filled year in 2016.
By getting the Annual Update done it ensures the Feng Shui information contained in your main report is tweaked and takes into account the visiting energy in 2016. This can sometimes affect your Feng Shui by up to 40% so it is important you keep on top of this to ensure a smoother and more successful 2016.
For those of you born in either the Year of the Tiger or Monkey or have them anywhere in your Four Pillars, you should carry a pendant of a Monkey from Feb 2016 to Jan 2017.
If you are yet to have a consultation then if you book in for a full consultation or alternatively purchase a remote consultation and you will get the Annual update for 2016 included FREE.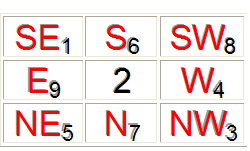 The annual energy changes on 4th February and lasts until 3rd February 2017. The following recommendations should be put in place to further support the Feng Shui of your home or business.
5 = Obstacles in the NORTH EAST2 = Sickness in the CENTRE
As mentioned, the yearly energies actually move to their new locations on the 4th of February each year. There are two major 'bad luck' stars that should be remedied. These are located in theNORTH EAST and CENTRE sectors from Feb 4th 2016 to February 3rd 2017.There are several remedies that can be used in the NORTH EAST and CENTRE throughout 2016 and these include a metal wind chime for the outside AND for inside you can choose from a salt water cure, striking a singing bowl, ringing a space clearing bell twice a day and/or hanging 6 metal bells on the back of a door. Just make sure they comfortably fall in both the NORTH EAST and CENTRE sectors. In the CENTRE sector we highly recommend placing a brass calabash and/or Six Chinese Coins, which will also help to absorb the challenging sickness energy. In the NORTH EAST of your home a Five Element Pagoda, can greatly harmonise the negative energy – I love my pagoda and find it a great remedy as well as looking beautiful.The conflict star is located in the NORTH WEST in 2016 and signifies arguments and legal issues occurring. To remedy you just need to add some bright red to the sector – just be careful of what base flying stars are already in this sector – to find this out you will need to have already had an analysis. The NORTH is vi