Liz and Carolyn are in the midst of testing some new formulas recently brought to and taught in Australia for the first time by Master Bennis. So far, we have seen some positive results with specific placement of water features in areas outside the front door as well as on the desk. As always, we like to test formulas on ourselves and willing clients to ensure they deliver all they promise prior to providing this type of consultation to paying clients. Stay tuned for a launch of this additional service in December if all continues to go well.
You might not know this but Feng Shui energy changes every 20 year period, every year, month, day and hour. As Feng Shui consultants we help people ensure the energy of their home and /or business is supportive of them and our focus is primarily the period and annual energy. November is a time when we remind clients that their annual updates are due. These updates help ensure the smooth flow of energy in your home and business. We have hundreds of clients between us which amounts to hundreds of reports to write over the next 3 months, so to ensure you get your annual update before the changeover of Annual year energy on 4 February 2013, you need to book in for your Annual Update this November or December. At only $129 this service is highly recommended to ensure a healthy, wealthy and positive relationship filled year in 2013.
If you are yet to have a consultation then if you book in for a full consultation with either Carolyn or alternatively purchase a Remote Consultation you will get the Annual Update for 2013 included FREE.
As it would be too time consuming for us and expensive for clients to look after the monthly and daily energy, each month we post a blog advising you on how best to deal with the current monthly energy. This often just involves a few minor tweaks to ensure the Feng Shui of your home or business is in tip top shape.
October was a very challenging month due to the annual energy being reinforced by the monthly energy so it was a particularly challenging month. This was also due to the fact that the dog month clashed with the dragon year. Thankfully November is much smoother although there is some risk of flooding due to the water of the month reinforcing the water in the Year of the Water Dragon. The Earth of the Dragon may find it difficult to fully control the water contained in both the year and the month in November hence flooding can result.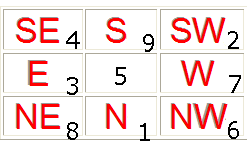 The month energy changes on 7th November and lasts until 6th December 2012. The following recommendations should be put in place to further support the Feng Shui of your home or business.
If your front door is located in the South West, East or West then you should take particular notice of the advice below as your house is more likely to be affected by these visiting challenging energies.
Each month the most challenging energy is the 5 catastrophe and 2 sickness stars. These need to be dealt with appropriately to minimise their negative effect on you. The 5 is in the centre this month so this can create an unsettling feeling from within one's own self as well as their home. Avoid renovating in the centre of your home this month as you are likely to find obstacles and challenges if you do. Placing metal bells or ringing a space clearing bell morning and night will greatly help minimise the challenging negative located in the centre of your home.
The 2 sickness star visits the South West which is the position of the mother specifically and the family and relationships generally. Be mindful of this and mothers should take special care of their health this month. Your relationship also will need some tender loving care as the energy visiting is not at all supportive. To help remedy again you can use either the space clearing bell, metal bells or if you prefer you can use metal calabash to help harmonise this sickness energy located here.
The conflict star is located in the East so this can help support arguments and legal issues occurring. To remedy you just need to add some red that is noticeable. No need to go over the top, just a table runner or cushion or rug will suffice.
The West is visited by energy which hinders good communication. To remedy a vase of fresh flowers or 4 sticks of lucky bamboo will work well.
There is some lovely energy visiting the South East, North and North West in November however to harness it these areas must be kept clear of clutter and full of beautiful forms.
Finally the optimum areas in November are located in the North East and the South. Keep these areas as Active as possible. You will find increased opportunities will flow towards you if you have your bedroom or front door located in these sectors.
It is important to remember that the monthly and annual flying stars are best to use in conjunction with the period star and the flying star of the building.
Annual Update 2013 – The Year of the Snake
If you have already had a Feng Shui consultation get in early for a 2013 annual update
No more second Guessing
Find out your homes Flying Star Chart – this consultation will provide you with everything you need to know? Then order a remote consultation which will include the analysis for 2013! You won't have to do another one because once your chart it done, it doesn't change. Instead all you will require is annual updates.