For those of you who are previous clients make sure you book in for your Annual Update for 2019 – the Year of the Pig Remember, for best results you need to have this information PRIOR to the changeover date of 4 February 2019. This service is highly recommended to ensure a healthy, wealthy and positive relationship filled year in 2019. If you haven't been able to get this done in time don't delay. The longer you leave it the more likely the negative energy will work against you and you won't know how to activate the positive energy either.
By getting the Annual Update done it ensures the Feng Shui information contained in your main report is tweaked and considers the visiting energy in 2019. This can sometimes affect your Feng Shui by up to 40% so it is important you keep on top of this to ensure a smoother and more successful 2019.
For those of you born in either the Year of the Snake or Pig or have them anywhere in your Four Pillars, you should carry a pendant of a Tiger from Feb 2019 to Jan 2020.
If you are yet to have a consultation then if you book a Remote Consultation you will get the Annual Update for 2019 included FREE.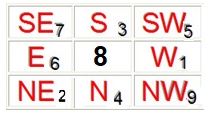 The annual energy changes on 4th February and lasts until 3rd February 2020. The following recommendations should be put in place to further support the Feng Shui of your home or business.
5 = Obstacles in the SOUTH WEST